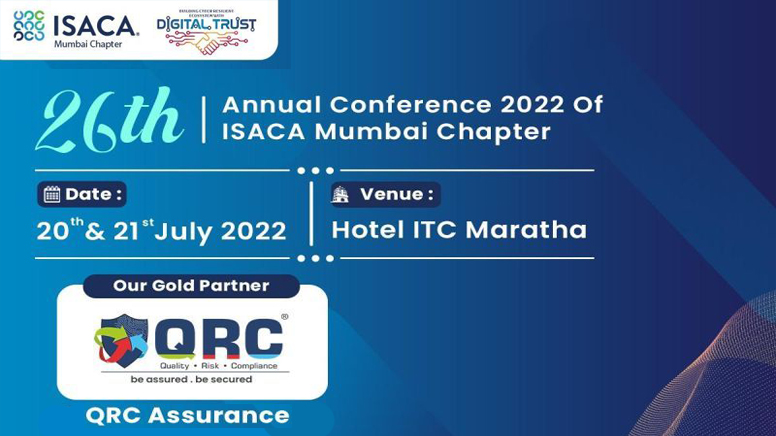 Organizations are under immense pressure to stay secure and protect confidential data from malicious attacks. In the digital world, there has been an exponential rise in cybersecurity threats, which is why organizations must remain vigilant and work towards strengthening their cyber defenses. QRC recognizes the importance of cyber security in today's digital world, and is proud to partner with the ISACA Mumbai Chapter in their upcoming 26th Annual Conference.
The 3-Day Conference brought together cybersecurity professionals, academics and practitioners to discuss the latest security trends and best practices, providing a hands-on experience to the attendees and help them build a better understanding of the cyber threats. With the ever-growing complexity of technology, it is essential to ensure that organizations and businesses have the proper tools and strategies in place to secure their digital assets and protect their data. The digital age has brought with it immense opportunities, while also introducing a number of challenges. Cybersecurity has become a crucial issue in this age of technology, and it is essential to ensure the security of data and systems to protect our information and resources.
This year's conference focused on the latest advances in cyber security and providing industry experts and practitioners with the knowledge and skills to identify and address potential threats. Attendees had the opportunity to gain insights into the latest tools and techniques used to protect digital assets, as well as best practices for preventing cyber-attacks and responding to incidents.
Participants got to interact with leading security experts and gain insights into implementing effective security measures, learn about new industry certifications and build their professional network. With the latest security solutions and expert advice, the conferences help organizations stay secure and protect their confidential data.
At the end of the conference, attendees had the opportunity to network with influential industry members and government representatives, as well as gain valuable skills and insights into the latest cyber security trends. Through the event, QRC aims to help organizations in India to stay ahead of the curve when it comes to protecting their digital assets and data. With the help of ISACA and the participation of industry experts, businesses in India will be able to stay on top of the latest security trends and ensure that their data is secure.