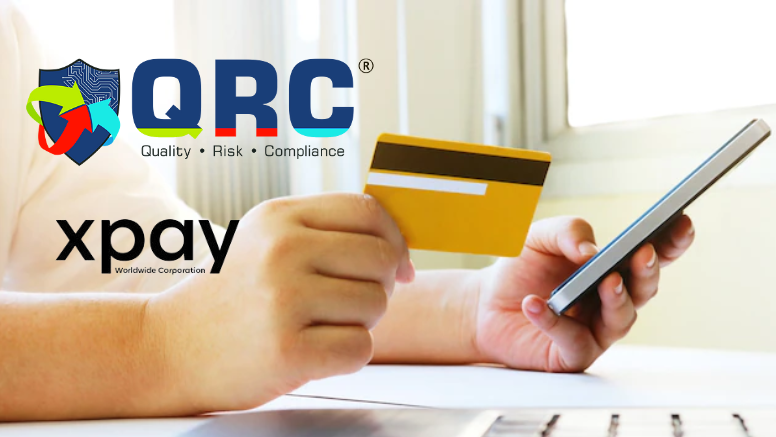 QRC Assurance and Solutions, Global PCI Certification provider, Certified E2E Encryption Payment Host Solution created under the partnership between SMKG and Xpay for globally esteemed PCI DSS v3.2.1 to secure sensitive authentication data of their customers. The payment solution handles online and offline, end to end payments in multiple segments like E-commerce, Mobile payments &amp Brick &amp Mortar for EMV POS Contact and Contactless payments.
The PCI DSS standard is a set of requirements designed to be followed by any organizations that stores, processes, and (or) transmit cardholder data and prevent frauds pertaining to payment card information, put forth by the Payment Card Industry Security Standards Council (PCI SSC).
Led by Mr. Hare Krishna Tiwari, the QRC team conducted rigorous assessment of the payment solution to vet the Xpay Mobile payment solution. Post hours of security testing and remediation, the team documented all the findings in the standard RoC and AoC report ensuring that all the necessary compliance requirements are met. Working hand in hand, Garry Gacusan, Xpay's CTO coordinated the initiative by providing all the necessary system access and information required to assess the solution.
"Having a globally recognized company like QRC Assurance and Solutions confirm through hundreds of hours of testing that the Xpay solution delivers on all compliance requirements is extremely rewarding." Gary Repchuk President at&nbsp Xpay.&nbsp
By implementing all the security controls as per the PCI DSS standard in their scoped environment to protect the cardholder data during storage, processing and transmission, Xpay got certified for Level 1 PCI DSS compliant. This has proved a significant milestone in Xpay's dedication to assist the&nbsp growing companies safeguard themselves from the reputation and resource damage that security breaches create.
"In our quality evaluation of Xpay Mobile Solution PCI Control evidences encompassed many critical areas like the validation of the encryption mechanisms from encryption endpoints to the Xpay decryption environment, cryptographic key management principles and implementation of payload encryption and decryption " Said Kalpesh Vyas, Led the Quality Process at QRC.
"It's necessary to ensure that at any given point of time, all companies that manage payment card data during at any point must meet the stringent information security controls specified by PCI DSS. QRC promotes firm adaptation of the 12 requirements defined as per the PCI DSS compliance standard necessary for any businesses to adhere to monitoring and encryption of data and network, and defining the user access privileges to stored customer data"&nbsp Mr Vamsi Krishnai, Founder&nbsp added further.&nbsp
ABOUT QRC ASSURANCE AND SOLUTIONS PVT. LTD
QRC Assurance And Solutions has been a forerunner on the cybersecurity front and is certified to provide&nbsp PA DSS,&nbsp PCI 3DS&nbsp and&nbsp Swift Assessment&nbsp apart from&nbsp PCI DSS&nbsp certification along with other security compliance services. QRC supports their customers to establish, document, implement and maintain Data Security and Privacy frameworks to protect their sensitive data from all Internal / External Threats and manage the confidentiality, Integrity, availability, Security, Privacy of such information systematically.
At QRC, we believe there is always a better way to secure a business.With a team of over 45 qualified professionals, QRC has completed over 1200 assessments with 150 clients in 20 countries serving a wide range of industries and are continuously working towards providing the latest security intelligence, understanding of the latest compliance requirements, IT security and information assurance to our clients. Visit QRC at&nbsp https://www.qrcsolutionz.com&nbsp to discover a more valuable, less troublesome way to achieve compliance where trust of clients is earned.
ABOUT XPAY WORLDWIDE CORPORATION
XPAY. Worldwide Corporation is a Philippines based, and globally deployed boutique technology solutions provider that delivers the newest Digital Transition and Financial technologies available today. Our payment, loyalty and operational platforms assist in accelerating our clients Digital Transformation and Payment initiatives with flexible commercial arrangements that fit most companies or government agencies' business model.
ABOUT SMARTCARD MARKETING SYSTEMS CORPORATION
SmartCard Marketing Systems Inc (OTC: SMKG) is an industry leader in specialized industry cloud and mobility applications to the global Paytech and Fintech markets. SMKG is an entrepreneurial boutique technology company, providing business intelligence and digital transformation strategies with a proprietary portfolio of applications and wireframes for banking, enterprises, retail e-wallets, digital ID-EKYC, digital workforce, events management, education, and ride booking industries. For more info visit&nbsp www.smartcardmarketingsystems.com&nbsp or visit our business applications marketplace at&nbsp &nbsp www.Emphasispay.com

18th June, 2020