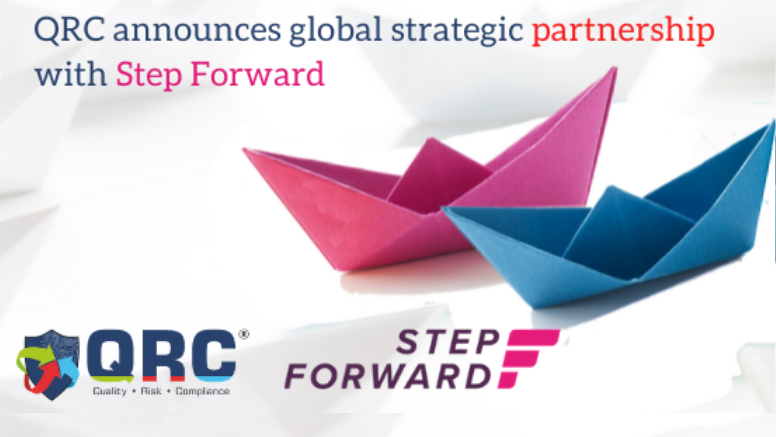 QRC Assurance And Solutions&nbsp and Step Forward Partners are pleased to announce that they have entered into a global strategic partnership, combining QRC'renowned expertise in cybersecurity risk and compliance with Step Forward's Financial Technology and Consulting Services, to provide strategy-led enterprise delivery and world class end to end Risk Compliance and Security Services to customers.
With increasing evolution in financial technology and the focus on providing more ease of payment, service providers need to step up their efforts in securing the risk associated with it. Service providers need to recognize that they need to accelerate their effort in gaining operational resilience to cyberthreats,ensuring that they remain on the competitive landscape.
The QRC-Step Forward partnership brings together deep expertise in the financial and operational risk management, paving the way for financial institutions and capital markets to address cybersecurity risk effectively. With growing impetus of adoption of security programs like SWIFT CSP, the collaboration represents a step-change in the way both businesses address the needs of the market.
"Risk is one of the key topics we have with our customers. By teaming up with QRC, we are increasing the service offerings we can provide our customers. QRC provides a level of expertise in cybersecurity that will be invaluable to our customers. As a first combined offering we are launching a SWIFT Assessment service that leads to CSCF Compliance for SWIFT institutions." said Zsolt Szalacsi, CEO of Step Forward.
Divulging more on the partnership, Vamsi Krishna Maramganti, Founder &amp CEO of QRC said that the combination of Step Forward's long financial expertise coupled with QRCs expertise will help to deliver an end-to-end risk compliance and security testing offerings to customers across globe.
By leveraging each other's strength and capabilities together, QRC and Stepforward are looking for many such initiatives together to deliver consistent security risk and compliance services.
About QRC Assurance And Solutions Pvt Ltd
Empanelled with CERT-in, QRC Assurance and Solutions is certified to provide&nbsp PCI DSS,&nbsp PA DSS,&nbsp PCI 3DS,&nbsp PCI SSF,&nbsp ISO 27001&nbsp and&nbsp ISO 27701&nbsp certifications along with other cybersecurity compliance services like&nbsp SWIFT Assessment,&nbsp SOC 1 / SOC 2 / SOC 3,&nbsp HIPAA,&nbsp GDPR&nbsp etc
QRC supports customers to establish, document, implement and maintain Data Security and Privacy frameworks to protect their sensitive data from all Internal / External Threats and manage the Confidentiality, Integrity, Availability, Security, Privacy of such information systematically.
About Step Forward
Step Forward is a boutique consultancy helping financial institutions worldwide achieve success with their technology needs and projects for Treasury, Capital Markets, Risk, Compliance and Wealth Management. Everyone here at Step Forward is a veteran of the business and ready to help you.
20th May, 2021