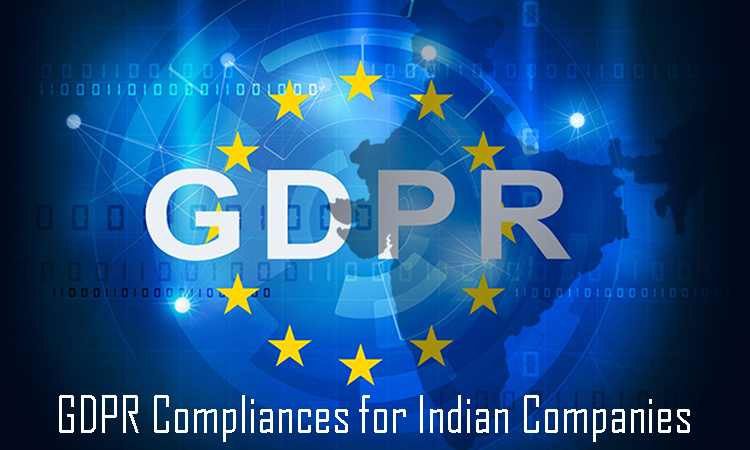 The European Union (EU) is known for its strict regulations when it comes to data privacy and information security. The systems need to comply with their guidelines in order to function in the EU. Recently, the EU has introduced a set of regulations for the protection of data processing and free movement of data pertinent to natural persons residing in the EU. These regulations are known as the GDPR and are it has extraterrestrial applications. Which means that any entities processing or moving the data of the EU residents need to comply with the GDPR. This has far-reaching implications for foreign entities such as Indian companies in the data processing space.
The impact of GDPR on Indian companies is profound. The Information Technology industry in India is widespread and a large number of companies find themselves in a place where they need to comply with the GDPR to conduct transactions with the EU. So let us take a look at what Indian companies need to achieve in order to work with EU residents in the data sector.
The EU explains GDPR as, "The General Data Protection Regulation 2016/679 is a regulation within the European Union and the European Economic Area that pertains to data protection and privacy for all individuals. It also identifies and addresses the export of personal data outside the EU and EEA areas."
Here, 'personal data' refers to the information related to an identified or identifiable natural persons. Which means any entity with an identification, security numbers, genetic identification, or any specific form of identification is considered a natural person. So any information pertaining to a natural person who is a resident of the EU is considered personal data under the GDPR.
For any foreign entity, such as Indian companies, dealing with the personal data of the EU residents, it is imperative to ensure that their systems are compliant with the GDPR norms and the data protection requirements are in place. This means that most Indian companies need to redefine their privacy policies and bring about certain pertinent changes in their system.
Also Read -&nbsp 5 ways to remain GDPR compliant in 2019
It is not only important but lawfully stipulated that companies comply with the GDPR stipulation as the penalties for non-compliance are severe in the EU law. It can prove to be an invitation to penalties up to 10,00,000 to 20,00,000 euros or 2-4% of the global turnover of the previous financial year, whichever is higher. Most EU companies insist on&nbsp GDPR compliance&nbsp as a standard contractual clause so as to ensure complete security of their data. Indian Government is also looking at updating and introducing laws to ensure stronger data protection compliances and guidelines for Indian Companies. Meanwhile, it goes without saying that any company in India which is looking at working with the EU needs to update its data protection policies in order to continue its business transactions. Currently, the trends in the GDPR compliances beg the question of how Indian companies are preparing for this switch. For this, the following questions need to be pondered upon-
What is the data footprint of Indian companies in EU?
Are Indian companies equipped and prepared to provide evidence of GDPR compliances to the stakeholders who may request them ?
Do Indian companies have a holistic understanding of what data is collected and how it is used and processed?
Is there a defined roadmap for GDPR compliances?
What cross border data transfer strategies are we adopting as Indian organizations?
In a recent seminar titled, GDPR: Post Implementation Review, the following points were discussed to make the compliances more relevant-
Global Privacy Challenges

: The seminar addressed global security challenges beyond GDPR and addressed the fact that while GDPR is important, it not an answer to all problems. Given the recent developments in countries like Brazil and India, the companies recognized privacy as the new normal, and decided to work to build efficient programs to address privacy challenges.

Maintaining a Culture of Privacy Awareness

: A key concern for most business is to maintain a culture of privacy in their organizations. Because of how some people view GDPR as a checklist to be completed rather than an ongoing responsibility, this concern was discussed at length.

Territorial Scope

: Various companies struggle to identify the territorial scope of GDPR given that it only applies to EU residents. However, a lot of North American businesses now abide by GDPR as a company policy rather than a mandate for EU.

GDPR and Future Privacy Challenges

: With the advent of Ai, Machine Learning and Big Data, companies have struggled to interpret the application of GDPR in the global scenario. &nbsp This discussion lead to the future challenges of GDPR that will require innovative solutions.
While this may seem like a lot of information, the right guidance can help you with these compliances. QRC solutions has a team of experts who guide and help you acquire the&nbsp GDPR certification&nbsp without much hassle.