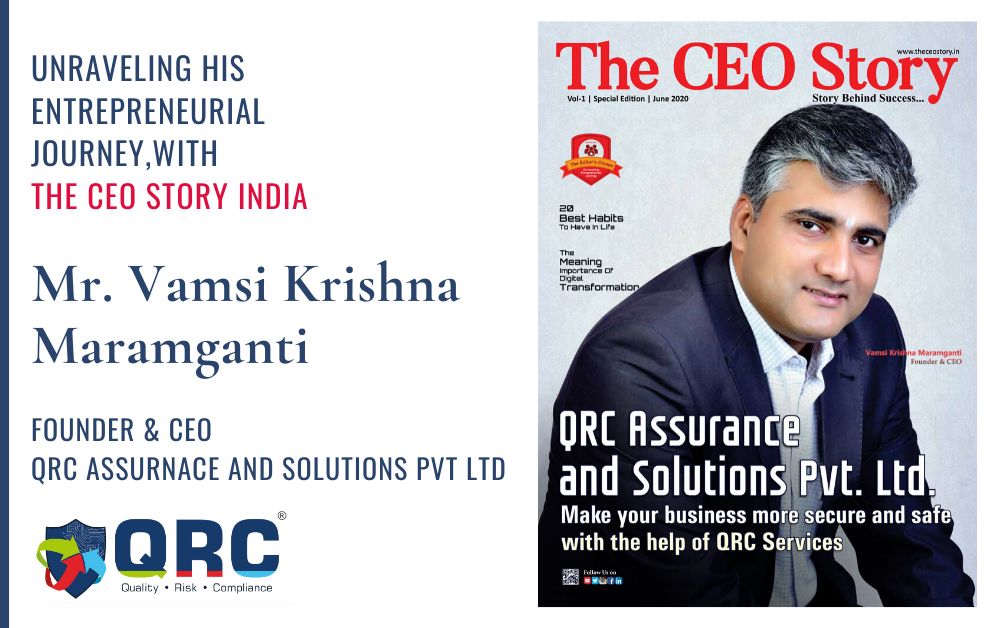 Recent years have seen a vast change in the cybersecurity landscape both as an advancing threatscape as well as a booming market. However with sheer perseverance and hardwork few have been successful in outgrowing their hurdles and setting examples of leadership.
Owing to its quality services,&nbsp QRC&nbsp has been recognised for its growing reputation and value as forerunner in the GRC domain. A leading entrepreneurial editorial,&nbsp The CEO Story India&nbsp interviewed Mr Vamsi Krishna Maramganti, Founder &amp CEO of&nbsp QRC&nbsp to understand his entrepreneurial journey over the years in its cover story.
"Understanding the dynamics of business and working on innovative ideas to overcome the challenges have always been my core interest, but along I wanted to create more employment opportunities for people. Cybersecurity is a growing field and with the increase in information and online adaptation, the opportunities are only going to skyrise."&nbsp - Mr Vamsi Krishna Maramganti
QRC helps organizations to secure their information assets that are very crucial to their business by providing solutions to fulfill their Governance, Risk and Compliance requirements. Irrespective to the size, these requirements are key to a business's growth, security&nbsp and sustainability.
Talking about the challenges in his journey, Mr Vamsi spoke about the roadblocks he faced in building the brands, winning client's trust and managing finances and how he invested in developing a self - sustained model. Hiring and retaining the right kind of people is essential to any organization's success. The intensive training environment and availability to develop hands on expertise over essential tools of trade, proved of great help.
Building a cybersecurity brand needs larger shoes to fill. Since its inception in 2015,&nbsp QRC&nbsp has been a trustworthy partner to a multitude of companies and with the help and support of upgraded technology have provided impeccable solutions in the arena of cybersecurity.&nbsp
QRC helped organizations to meet various international GRC standards like PCI DSS, PA DSS, SWIFT CSCF, GDPR, ISO 27001, HIPAA, SOC 1 &amp SOC 2, VAPT, etc, managed and coordinated by respective project managers.&nbsp
"Quality,&nbsp Delivery on Time, and&nbsp Knowledge&nbsp sharing are three characteristics that set us apart from others and we never lose customers because of not meeting them. We offer hassle free customised and complementary services to firms who want to secure their environment and&nbsp any organization can avail of these offers to check its current risks within their environment" Mr Vamsi added.
When asked how they plan to stay ahead by&nbsp the CEO Story&nbsp interviewer,&nbsp he emphasized on the extensive research and development which helps the organization&nbsp prepare itself for the coming future requirements and expectations. Having an in-depth analysis of the market and trends bound to arrive shortly has helped Mr. Vamsi to understand that consistency in present and conditioning for the future to ensure progressive sustainability in the market.&nbsp
Owing to the organization's effort and resilient leadership, QRC currently has conducted over&nbsp 1200 &nbsp assessment, for over&nbsp 150 &nbsp clients, serving&nbsp 20 &nbsp countries from its&nbsp 7 &nbsp global locations
Read the full article here :&nbsp
Cover Story | QRC : Making business safe and secure
25th June, 2020