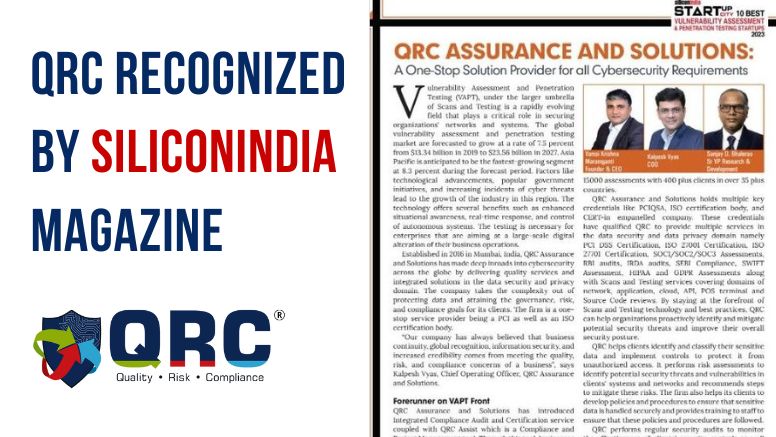 SiliconIndia, a leading technology magazine, has recently recognized QRC as one of the top 10 best Vulnerability Assessment and Penetration Testing (VAPT) startups in 2023. This prestigious accolade highlights QRC's commitment to excellence in the field of cybersecurity and its innovative approach to safeguarding digital assets.
Vulnerability Assessment and Penetration Testing have become critical aspects of ensuring the security of organizations' digital infrastructure. These processes involve identifying vulnerabilities and weaknesses within a system or network and simulating real-world cyber-attacks to assess the resilience and effectiveness of the security measures in place.
QRC has emerged as a frontrunner in the VAPT industry with its cutting-edge technologies and comprehensive approach to cybersecurity. The company offers a range of services, including vulnerability assessments, penetration testing, risk assessment, and security consultation and certification, to help organizations fortify their digital defences.
SiliconIndia magazine acknowledged QRC's significant contributions to the cybersecurity landscape by evaluating the company's expertise, technological advancements, industry impact, and client testimonials. The recognition not only emphasizes QRC's current standing but also positions the company as a promising player in the VAPT market.
With an impressive track record of successful projects and a team of skilled cybersecurity professionals, QRC has earned the trust of numerous clients across industries. The company's ability to adapt to evolving threats and its proactive approach to security have made it a sought-after partner for organizations seeking comprehensive cybersecurity solutions.
Read the full : https://startup.siliconindia.com/vendor/qrc-assurance-and-solutions-a-one-stop-solution-provider-for-all-cybersecurity-requirements--cid-20103.html
Speaking about the recognition, Vamsi Krishna Maramganti, CEO of QRC, expressed his gratitude and excitement, saying, "Being recognized by SiliconIndia as one of the top 10 best VAPT startups in 2023 is an honor for QRC. This recognition reaffirms our commitment to delivering high-quality cybersecurity services and driving innovation in the industry. We are grateful to our clients and team members who have contributed to our success."
QRC's recognition by Silicon India magazine serves as a testament to its dedication to excellence and its ability to deliver impactful cybersecurity solutions. As cyber threats continue to evolve, organizations require trusted partners like QRC to help them navigate the complex world of cybersecurity and protect their valuable assets from malicious actors.
With this recent accolade, QRC aims to further expand its reach and continue providing cutting-edge VAPT services to organizations worldwide. The company's focus on innovation, continuous improvement, and customer satisfaction positions it well for sustained growth and success in the ever-evolving cybersecurity landscape.