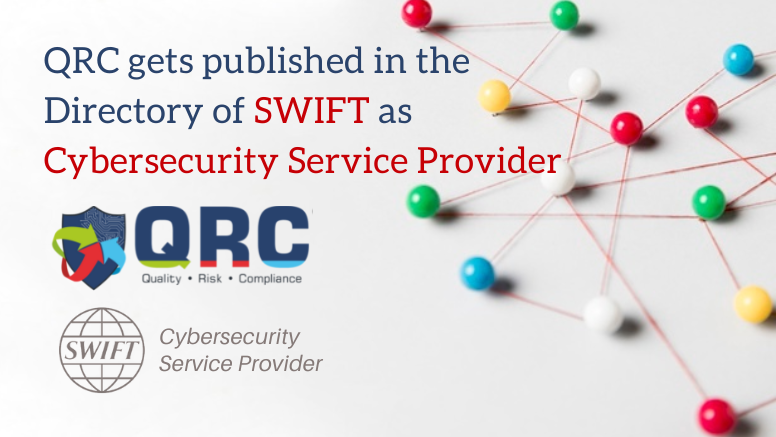 The recent advancements in technology has ease the entire payment transactions process. Ease in processing cross border payments and wire transfers has helped economies perform better. While these advancements there has been a rapid increase in cybercriminal activities as well. The very recent fraud attacks on&nbsp Society for Worldwide Interbank Financial Telecommunications (SWIFT)&nbsp users has demonstrated that cyber security is of increased importance, especially when establishing commercial relationships between SWIFT users.
Hence, to better enforce the security of global financial systems and increase the transparency, the Society for Worldwide Interbank Financial Telecommunications (SWIFT) commenced a SWIFT&nbsp Customer Security Programme&nbsp (CSP), introducing a Customer Security Controls Framework (CSCF)
Yesterday, QRC announced as been published as one of the SWIFT Cybersecurity Service Providers. Under this credential, QRC can now help SWIFT users with&nbsp end to end assessment&nbsp and support with getting attested under the new Customer Security Controls Framework (CSCF). The SWIFT CSCF Framework consists of&nbsp 19 mandatory controls&nbsp and&nbsp 10 advisory controls&nbsp applicable to all SWIFT users. Under this program, the SWIFT users would require annual attestation of the local environment against CSCF and then submit the results on the online portal, making the result visible to everyone.
QRC in a short span of 4 years have shown a tremendous growth potential. In 2019 itself,&nbsp the organization got accredited as&nbsp PA QSA&nbsp and&nbsp PCI 3DS&nbsp Assessor expanding their capabilities in serving and securing the infrastructure of their clients.
"We thank our entire team of QRC consultants and the Security division, whose continued dedication and efforts have been a vital contribution in reaching where we stand today, we look forward to better serving our community, and aiding our clients to further strengthen
cyber defences", Vamsi Krishna, Founder &amp CEO added.
For more information about QRC's SWIFT Assessment services and offerings, please&nbsp click here
29th September, 2019