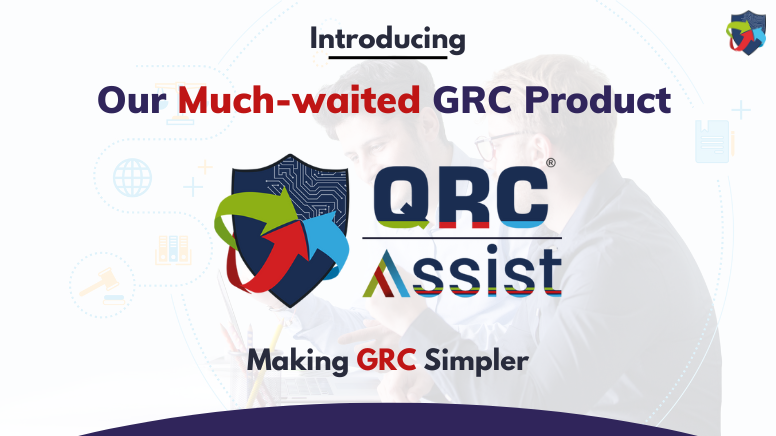 Do you want to ensure compliance and minimize risk in your organization but don't know how?&nbsp
QRC has the answer. QRC has just announced their new QRCAssist, an end-to-end compliance management software designed to make compliance more straightforward and easier to manage. With QRCAssist, organizations can streamline their compliance operations and get the assurance they need. QRCAssist is designed to provide comprehensive compliance management in every key area of operations. The application also provides detailed reporting and analysis of your compliance processes to ensure that they remain effective over time.
-What is QRCAssist?
QRCAssist is an end-to-end compliance management software platform developed by QRC. It provides organizations with a single, comprehensive, and customizable solution to manage regulatory, compliance, and audit requirements. The software offers a comprehensive suite of tools to help organizations stay compliant with their legal and regulatory requirements, including automatic alerts, risk assessment, and reporting capabilities.
QRCAssist simplifies the process of compliance management by allowing users to manage multiple areas of compliance in one place. The platform provides an intuitive user interface that makes it easy to monitor and manage compliance across multiple locations and jurisdictions. The software also offers a wide range of customizable features to help users tailor the platform to their individual needs.
-Who should use QRCAssist?
QRCAssist is the perfect tool for any organization that needs to keep track of regulatory changes, industry standards, and internal policies. It can be used by any organization that has a need to maintain compliance with regulatory and other requirements. This includes companies in the financial, healthcare, hospitality, transportation, and other industries. QRCAssist is especially useful for companies that need to manage a large number of compliance requirements and have limited resources to do so.
QRCAssist is designed to be an easy-to-use solution for organizations of all sizes. It provides a comprehensive set of features that can be tailored to meet the needs of individual companies. It also features an intuitive user interface, making it easy for users to quickly find the information they need. QRCAssist is an invaluable tool for companies that need to stay compliant with their industry regulations. It helps organizations identify and remain compliant with the latest changes and standards, ensuring that their operations are up to date and compliant.
Whether you're a small business or a large corporation, QRCAssist is the perfect tool to help you manage your compliance requirements quickly and easily.
-How does QRCAssist help with compliance management?
As businesses grow and become increasingly complex, staying compliant with industry regulations can become a daunting task. QRCAssist is an end-to-end compliance management software that helps organizations manage compliance across multiple regulations and jurisdictions. With QRCAssist, businesses can easily monitor their compliance status, record and track compliance issues, and generate audit reports.
QRCAssist provides end users with real-time insight into their compliance status. Through customized dashboards, users can quickly and easily identify areas of non-compliance and take action to ensure they remain complaint. QRCAssist's audit tracking and reporting feature helps organizations generate audit reports quickly and efficiently. This helps business ensure they are prepared for any potential audits.
QRCAssist also offers automated compliance monitoring. This feature monitors regulatory changes in real time and sends notifications to users when a change occurs. This allows businesses to stay ahead of changing regulations and remain compliant.
QRCAssist is a comprehensive compliance management software that helps businesses stay compliant with multiple regulations and jurisdictions. With real-time insight, automated compliance monitoring, and audit tracking and reporting, QRCAssist provides organizations with the tools they need to stay compliant and remain competitive.
-What are the benefits of using QRCAssist?
QRCAssist is designed to help organizations of all sizes streamline the process of managing their compliance needs. QRCAssist allows for greater visibility and control over the compliance process and provides the latest features and functionality to help organizations easily manage the complexities of compliance.
This application is designed with an intuitive dashboard that provides insight into the current status of compliance. It also allows for customization of reports and dashboards based on specific needs. One of the major benefits of using QRCAssist is that it reduces the amount of time and resources required to manage compliance. By making the process easier, organizations are able to more efficiently manage their compliance needs and avoid potential risks. It also reduces the amount of paperwork and manual processes needed, freeing up resources for other tasks.
Overall, QRCAssist is a powerful and comprehensive solution that provides organizations with improved visibility, control, and compliance. It streamlines the process of managing compliance and helps organizations save time, money, and resources.
-What are the advantages of using QRCAssist over manual processes?
QRCAssist makes it easy to track and report on key compliance metrics. The software is designed to easily identify areas of concern and provide customized reporting that helps you track progress and stay on top of any potential risks. This makes it much easier to make sure compliance is up to date than relying on manual processes.
Another advantage of QRCAssist is its ability to streamline the compliance process. Finally, QRCAssist simplifies the audit process. It can help you prepare for audits by providing an easy-to-follow checklist that makes sure all of your records are in order and up-to-date. This makes the auditing process much faster and ensures that you are prepared for any potential issues.
Overall, QRCAssist provides an effective and efficient solution for compliance management. It eliminates the need for manual processes and makes it easier to stay compliant with regulations. With its comprehensive set of features, QRCAssist is the ideal choice for any organization looking to stay on top of their compliance requirements.
Struggling to manage you compliance requirements? Book you demo today