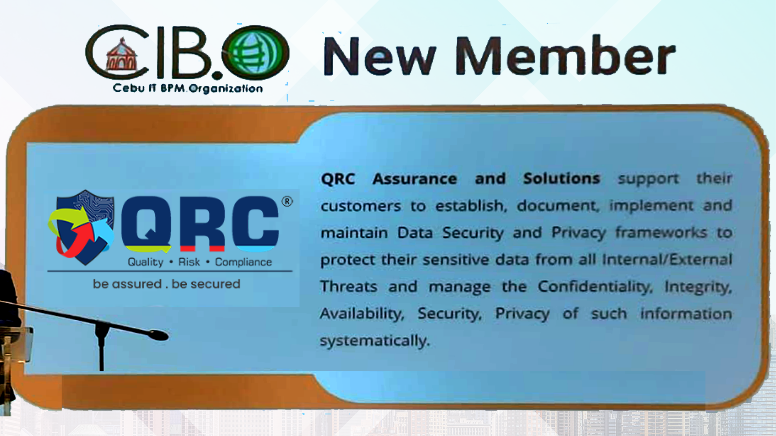 QRC is proud to announce that it has become part of the Cebu IT BPM Foundation. This is a significant move that will further strengthen QRC's role as the regional business landscape as a cyber security service provider and leader. QRC has a great track record in Philippines delivering top-notch and cost-effective data security and privacy solutions, making it a strong and reliable addition to the foundation. With this move, QRC will now be able to provide more comprehensive services and solutions to its members, bolstering its already impressive roster of services and solutions.
QRC will also be able to showcase the capabilities of its members and serve as the gateway to IT services and solutions in the region. The cybersecurity leader will be able to leverage its resources and experiences to further benefit the foundation's other services and solutions, striving to be the go-to organization for cybersecurity leader in the south asia-pacific region. With this addition, QRC will be able to further its mission of creating a more secure and resilient IT ecosystem in the region.
Founded in 2016, QRC specializes in providing PCI&nbsp DSS, PA&nbsp DSS, PCI&nbsp 3DS, PCI&nbsp SSF, ISO&nbsp 27001&nbsp and ISO&nbsp 27701 certifications&nbsp along with other cybersecurity compliance services&nbsp like SWIFT&nbsp Assessment, SOC&nbsp 1 / SOC 2 / SOC&nbsp 3, HIPAA,&nbsp GDPR etc . QRC is committed to providing quality services tailored to the specific requirements of each client for maximum efficiency.
As a member of Cebu IT BPM Organization, QRC has a long-standing commitment to the Cebu IT BPM industry, providing professional services and technical expertise to help businesses achieve the highest performance, efficiency and value.
QRC's services are designed to deliver the most cost-effective solutions, while leveraging the latest technologies and business processes. QRC's team of experts provides ongoing support for clients, helping them manage and maintain their compliance and certification requirements. QRC is also committed to providing professional training, helping clients maintain a competitive edge in their industry.
QRC's expertise and commitment to quality has enabled them to establish a solid reputation in the Cebu IT BPM sector. QRC is proud to be a member of the Cebu IT BPM Organization and looks forward to continuing to provide the highest quality services to the businesses in the region.